Camp Fire Butte County cases
If you have been injured, lost a loved one, or lost your home or property in the Camp Fire, please contact our office today. Get free information regarding your rights and options. No recovery no fee.
Contact the Law Office of Adam Sorrells. 25 plus years experience. Previous successful handling of fire cases.
To our knowledge we are the only local law firm handling Camp Fire cases. Other law firms will be from Chicago or otherwise from outside this area. If you want a local attorney to handle your case, please contact us today.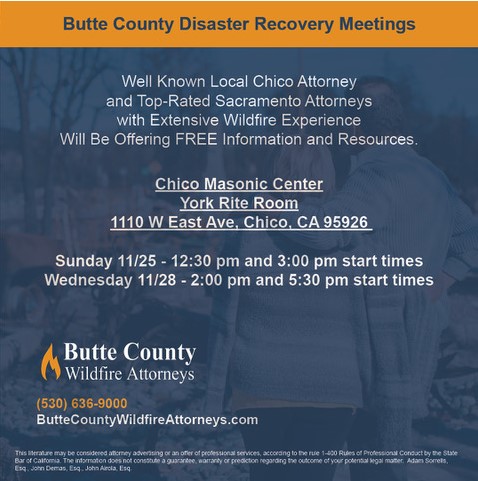 Who needs a lawyer?
Everyone whether you have insurance or not including:
Homeowners who have suffered fire or smoke damage;
Landowners who suffered property damage
Business owners whose business was impacted in any way;
Renters who suffered fire or smoke damage;
Anyone who sustained any personal injuries;
Anyone who was forced to flee the fires;
The heirs of those who did not survive the fires.
Why Does a Fire Victim Need a Lawyer Now?
If the fire victim has insurance:
A Lawyer will help a person put his or her best foot forward in making the insurance claim
Insurance only covers a small part of the losses
Insurance companies will often cheat
most losses will be recovered from the power company and its contractors
If the fire victim does not have insurance:
All of the losses will need to be recovered from the power company and its contractors